Whether you are a travel agency, hotel, or tour operator, having a well-designed and functional website can greatly enhance your business prospects. In this blog, we will explore the best features to look in travel website development that can make your platform stand out from the competition.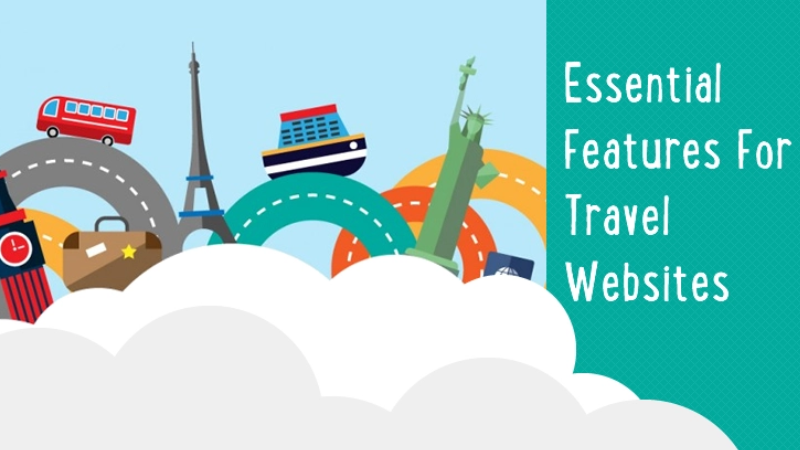 Best Features to Look in Travel Website Development
In today's digital age, the travel industry has witnessed a significant shift towards online platforms. With the growing popularity of travel websites, it has become essential for travel companies to develop user-friendly and feature-rich websites that provide an exceptional experience to their customers. Whether you are a travel agency, hotel, or tour operator, having a well-designed and functional website can greatly enhance your business prospects. In this blog, we will explore the best features to look at in travel website development that can make your platform stand out from the competition.
Responsive Design
One of the primary considerations for any travel website is a responsive design. With the increasing usage of smartphones and tablets, it is crucial to ensure that your website looks and functions seamlessly across all devices and screen sizes. A responsive design not only provides a consistent user experience but also improves search engine rankings, as search engines prioritize mobile-friendly websites.
Advanced Search and Filtering Options
A robust search functionality is a must-have feature for any travel website. Users should be able to search for destinations, accommodations, flights, or any other travel-related information easily. Additionally, implementing advanced filtering options based on price, location, amenities, ratings, and other criteria can help users refine their search and find exactly what they are looking for. This feature enhances user satisfaction and saves them valuable time.
Integration with Booking Systems
Integrating your travel website with reliable and secure booking systems is vital for providing a seamless booking experience to your customers. Whether it's hotel reservations, flight bookings, car rentals, or tour packages, the website should have a smooth integration with relevant third-party booking platforms. This ensures real-time availability, accurate pricing, and instant confirmation, thereby instilling trust and convenience for your customers. The best travel website development company keeps all these things in mind and provides the best layout as per the business requirements.
User Reviews and Ratings
Travelers heavily rely on reviews and ratings when making their booking decisions. Incorporating a user review and rating system on your website allows customers to share their experiences and helps other users make informed choices. Implementing a robust review system that encourages genuine feedback and provides the option to filter and sort reviews can greatly enhance the credibility and trustworthiness of your platform.
Interactive Maps and Itinerary Planning
To assist travelers in visualizing their trips, interactive maps play a crucial role. Integrating maps into your website allows users to explore destinations, points of interest, and nearby attractions. Furthermore, providing users with the ability to create personalized itineraries directly on your website enhances engagement and helps users plan their trips effectively.
Multilingual and Multi-currency Support
Travelers come from various parts of the world, speaking different languages and using different currencies. To cater to a global audience, your travel website development should offer multilingual support, allowing users to switch between languages seamlessly. Additionally, supporting multiple currencies enables users to view prices in their preferred currency, making the booking process more convenient and accessible.
Social Media Integration and Sharing
Incorporating social media integration into your travel website design can significantly expand its reach and visibility. Enabling users to log in using their social media accounts or share their travel plans and experiences on platforms like Facebook, Instagram, and Twitter helps generate organic promotion and fosters user engagement. Integrating social media feeds and user-generated content also adds authenticity and credibility to your platform.
Personalized Recommendations and Notifications
To enhance user experience and encourage repeat visits, implementing personalized recommendations and notifications can be highly effective. By analyzing user preferences, browsing history, and previous bookings, your website can suggest tailored travel options, deals, and promotions. Sending targeted notifications for upcoming trips, flash sales, or personalized travel suggestions helps in building a strong customer relationship and drives customer loyalty.
Secure Payment Gateway and Data Protection
The best feature of the best travel website provider is the implementation of a secure payment gateway. Travel websites handle sensitive customer information, including personal details and payment information. Ensuring a secure payment gateway and implementing robust data protection measures are paramount for building trust and credibility with your users. Integration with trusted payment gateways and adherence to industry-standard security protocols like SSL encryption safeguards user data and prevents unauthorized access.
When it comes to travel website development, incorporating the right features can make all the difference in providing an exceptional user experience and staying ahead in a competitive market. A responsive design, advanced search, and filtering options, seamless integration with booking systems, user reviews and ratings, interactive maps and itinerary planning, multilingual and multi-currency support, social media integration, personalized recommendations, and secure payment gateways are some of the key features that can elevate the performance and popularity of your travel website. By focusing on these features and continuously refining your platform based on user feedback, you can create a travel website that offers a memorable experience and drives business growth.